ALL PAY HEED TO THE WORDS
OF THE EARTH MOTHER,
QUEEN OF THE NIGHT: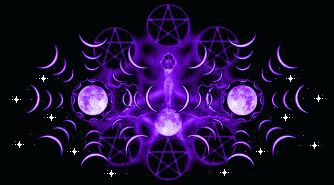 "I am the Light in the Darkest night
I am the Dream the sleeps within
Harken unto me, my child
For I was before Time began
And I will be after Time ceases.
You were born of my Love and Design
And I am known to you.
I have come to you in dreams
And walked beside you in forests at night
I have sung with you in times of Joy.
And held you close in times of sadness.
So now I call to you to Rejoice in my Name,
to sing, be merry and Love freely.
For all acts of Love are my Rituals,
All songs of Joy, my Prayers,
So be it at Night as the Moon rides High,
Or when Joy leads you to sing my Names,
Rejoice in the Life I have given you
And no greater Honor could you do me."